So I'm reading
"On Kitsch"
by
Odd Nerdrum
. I agree on most aesthetic fronts, such as the principles of skill, passion, universality, and rejection of mass taste. Using the distinctions made by Clement Greenburg and other modernist art critics between art and kitsch, Nerdrum happily falls into the category of kitsch along with many great painters dismissed by the art establishment. I also like the distinctions between high kitsch (Wagner) and low kitsch (bad moose paintings), as well as between camp (my former boss, Jeff Koons, who actually mocks kitsch) and true kitsch, which is completely in earnest.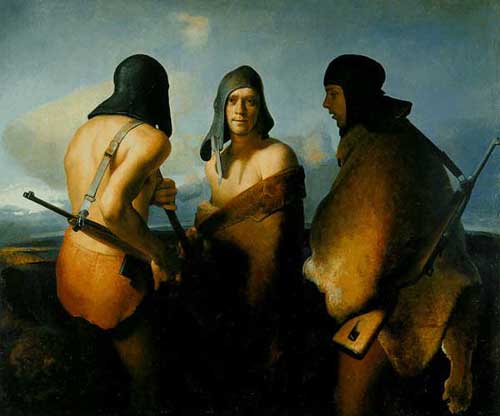 "The Murder of Andreas Baader" Possibly my favorite, painted in the seventies, and borrowing strongly from Caravaggio.
I like pictures of Odd Nerdrum. Cool looking dude.
I learned in college that "artist" is too loaded a word to place on myself, but my personal problem is that I do not want to sign a manifesto that all of the sudden limits what I can and can't paint. I guess I fall into the kitsh category according to both Greenburg and Nerdrum, at least for now, but I don't really care either way. I just want to make things that I think are great and revel in that which I love about great paintings.
Nerdrum was the first contemporary painter to really grab my attention as a freshman in art school, and I still love him. I thank him and my other favorite painters for breaching the time/space barrier and reminding us that painting is not about the here and now, but for all times and all walks of people. He is an individual painting for individuals, which is way more important to me than the kitsch/art debate.